No, I have not eaten anything new in the past 24 hours (with regards to cheese of course). Yes, I still want to post things on the blog because the exploration of cheese is slowly and surely taking over my romantic soul. Yes, I do want to move back to France as soon as I have my bachelor's and work at a crèmerie somewhere in the nearby countryside and speak French with the locals and live a calm, different culture. Being here in France is really just like second life to me now - I take for granted all the magic that is here and I know it, so coming back is a necessity. Why not do something absolutely novelesque in my young years when I can afford to take advantage of my no responsibilities/obligations/connections? Aka yeahhhhh Anyway I was driving back from a beach day in Préfailles (beautiful beautiful rocky savage beaches and seafooooood) when I realized there are plenty of cheese-related tidbits that I can be passing on to the 2.3 readers of this blog!  So Tidbit 1: As you may know, I briefly changed the name "cheeseisgod" to "Sweet Dreams Are Made of Cheese" before I realized that the domain name itself didn't change and that was confusing blah blah but nevertheless this is a great little cheese/a capella rendition of "Sweet Dreams (Are Made of This)" by the Eurythmics: http://www.youtube.com/watch?v=25RuXkkM9T0
Like vraiment lol; 37 seconds of cheese dedicated singing = something I am toats down with. Then comes Tidbit 2: You can get a free wisconsin cheese guide/poster by following this link and just entering your address! http://www.eatwisconsincheese.com/cheese/requestguide.aspx ... I just received mine a couple of days ago and it has about 30 different varieties on it and at the very least like its a piece of free paper with cheese to look at. I saw this offer on another cheese blog about 3 months ago so pay it forward friends!
Tidbit 3: Camembert-pomme tartelettes! We ate these last saturday for dinner and mehhh I had a Baraka burger (dirtiest burger in Nantes... quarter pounder cheeseburger with HASH BROWNS LIKE WHUTTT) right before dinner so was not too too peaked but still managed to get one tartetlette in the belly. If I had been hungrier like my oh my so much consumption! Unfortunately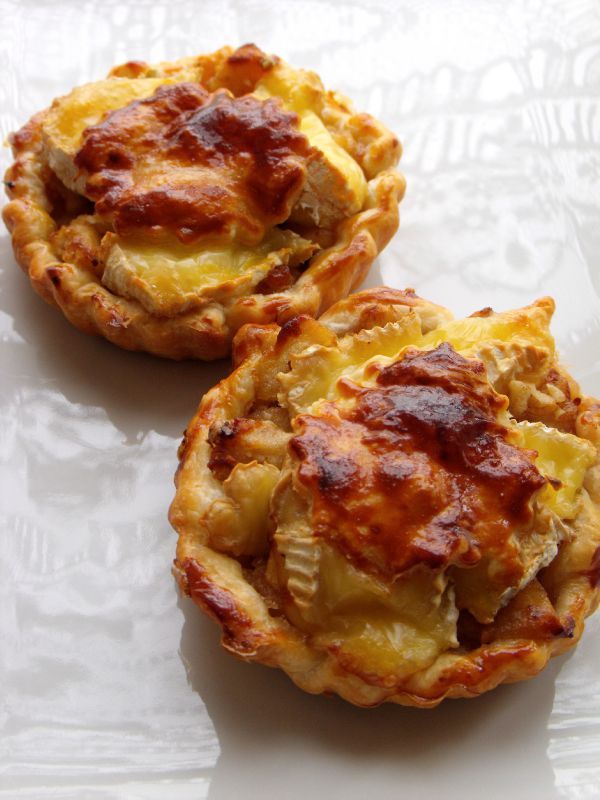 I did not take a picture of ours but this is a prets good approximation (thanks Google images (does that count as a citation/oops this is a parentheses in a parentheses)) of what the magic was. Fondante, strong like camembert, buttery, sucré, oooooh you don't even know if it's a dessert or plat principal. I strongly suggest you give this a try, and most of the online recipes seemed like similar versions enough to what I had. Even if you don't try it, at least you know it exists!
Tidbit 4: Camembert Chantilly! Like seriously this is something that would be "rien n'est plus simple à faire" according to the wise words of my wise host father Daniel. You can find the recipe here: http://rusticooking.over-blog.com/article-pommes-caramalisees-a-la-chantilly-de-camembert-115514680.html ... I will be making this as soon as I am back in the states and camembert me manque tellement and as this will be in a chantilly form I don't necessarily need some D'Isigny Sainte Mère camembert to calm my palate. By really world?? Camembert chantilly? I think this could go with buttermilk gaufres or chocolate blueberry pancakes? Savory profiteroles? Shooters with chantilly on top?? Ooohoo vraiment avenues of cheese.
Tidbit 5: Cheese tasting poster with 16 principal flavors My friend Charlie who is a chem major and tryna get his masters in food science so he can do that the rest of his life posted this on my wall and I thank him dearly. I wasn't sure if I agreed entirely with the distinctions, but then I'm the one with the palate, not the doctorate in food science. http://www.popsci.com/files/cheese-poster.png?utm_medium=referral&utm_source=pulsenews Here you can see what cheeses are related to each other, what flavor traits they have in common, and how much. I find it pretty american-centric, but at least 6 french cheeses are represented so good stuff. At the very least its amusing to see such a thorough definition of what tastes are present.
Okay so yes enjoy the tidbits, I leave for Paris in the morning where I hope to visit the legendary shops of Quatrehomme and Androuet and Laurent and ohhhh can't even wait. A plus!